Let's look at how to run pay per call campaigns with Facebook Ads.
There are two primary ways to run a pay per call campaign with Facebook: Call-To Action Ads and Reach Campaigns.
We'll focus on these types of campaigns because they use "Call Now" buttons that allow users to click-to-call which makes them perfect for testing Facebook ads as a pay per call traffic source. Another benefit to these campaigns is that you can include Instagram as one of your placements which is another massive traffic source.
Before you can run this type of campaign, you'll first need to set up a Call Now button for your page. Displaying a Call-Now button on your page gives visitors the ability to click-to-call a phone number directly from your page.
To set up a Facebook Call Now button, go to your Facebook page and click "+ Add a Button" below your cover photo. Select the "Call Now" option, enter your phone number, and press "Save".
After you've set up your Call Now button, you can now run a "Call-to-Action" promotion. Go to your Facebook Page and click "Promote". Select " Get More Calls" and fill in your ad details including the creative, targeting, and budget, etc. Finally, you can launch your campaign by clicking the "Promote Now" button.
A Call-to-Action page button is also a fantastic way to generate calls organically so even if you don't run this type of paid advertising campaign, you should at the very minimum have a "Call Now" button on your Facebook page.
Method 2: Reach Campaigns with a Call Now button
For you expert Facebook media buyers out there, this is a standard type of Facebook Ads campaign that you may be more familiar with. Using "Reach" for your campaign objective, you can use a Call Now button for your call-to-action.
To get started, go to your Facebook Ads account and click "Create New Campaign". Choose "Reach" for your campaign objective and you can begin setting up your campaign details.
When you get to the Ad Creative section, click the "Add a website" checkbox and include a URL for verification. Next, under the "Call To Action" dropdown, select "Call Now" and you can enter a phone number for users to click-to-call directly from your ad.
Here's what a Facebook Call Now Ad looks like: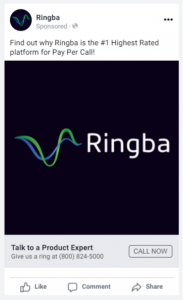 Tracking Phone Calls from Facebook Ads
Ringba provides a native integration for connecting directly to your Facebook Business Manager account to automatically track and report your calls as offline conversions.
Check out our support guide to learn more about the Ringba Facebook Integration.