1. What is Pay Per Call?
Pay Per Call is the process of connecting a business with a prospective customer over the phone. Pay Per Call (Pay-Per-Call, or PPCall) is an advertising model that allows businesses to buy inbound phone calls from consumers who are interested in their products/services on a per call basis.
Simply put, pay per call means that a business is paying to receive an inbound phone call from prospective customers.
2. How does Pay Per Call work?
While there are many ways to execute the pay per call business model, here's how it works from high-level.
Advertisers run a marketing campaign with the primary goal of getting prospective customers to connect over the phone. Publishers generate inbound calls from paid traffic sources and get paid a commission for the qualified calls they generate.  Networks act as an intermediary between call buyers and call sellers.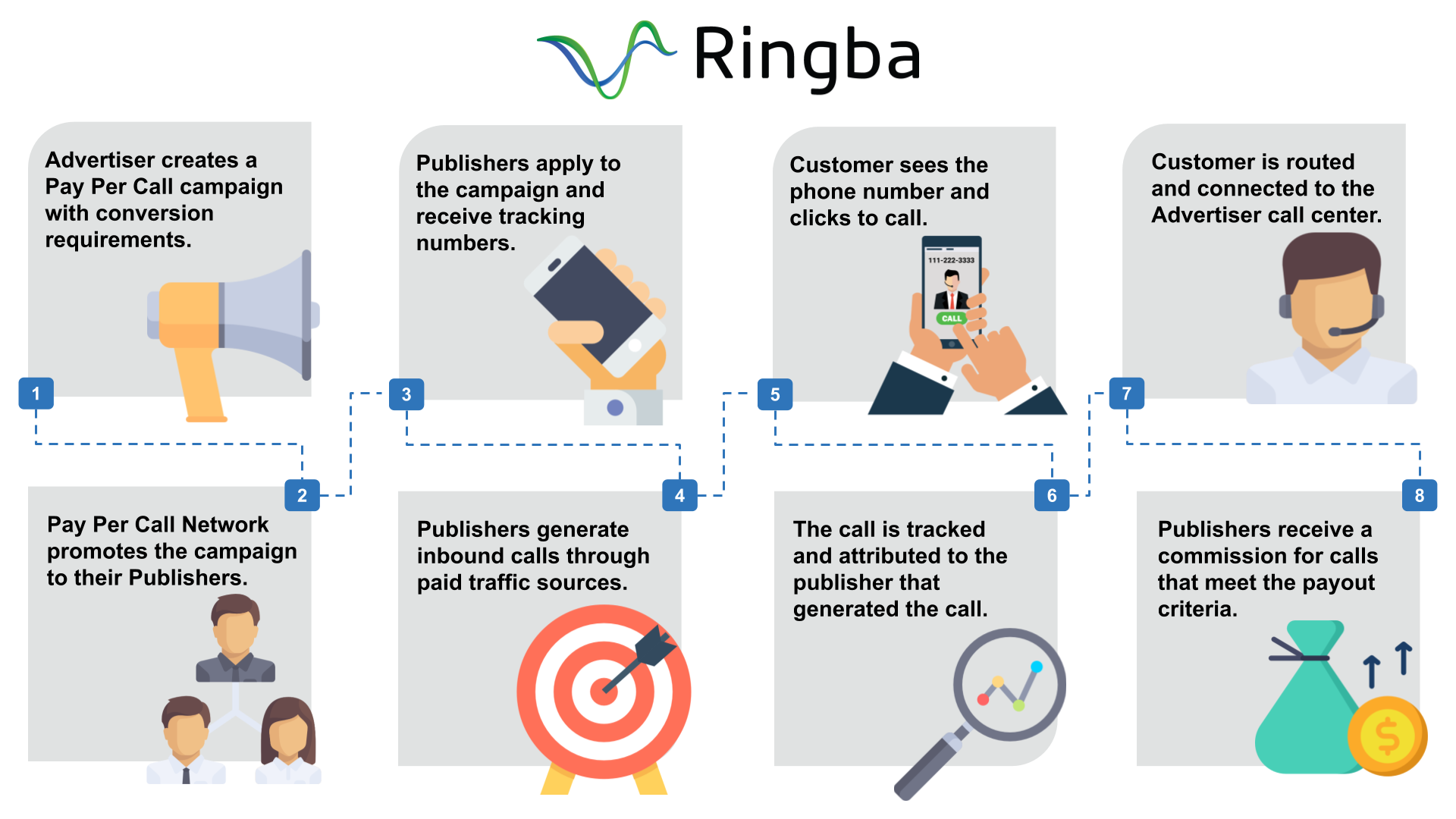 Step 1) Advertiser creates a Pay Per Call campaign with specific conversion requirements.
Step 2) Pay Per Call Network promotes the campaign to their Publishers.
Step 3) Publishers apply to the Pay Per Call campaign and receive tracking numbers.
Step 4) Publishers generate inbound calls through paid traffic sources.
Step 5) Customer sees the phone number and clicks to call.
Step 6) The call is tracked and attributed to the Publisher that generated the call.
Step 7) Customer is routed and connected to the Advertiser call center.
Step 8) Publishers receive a commission for calls that meet the payout criteria.
3. What industries and verticals work well for Pay Per Call?
The biggest industries in the world and the biggest brands in the world all need more phone calls. Leading pay per call verticals include; automotive, financial services, health care, home services, insurance, legal services, travel and more.
Here are some more specific examples of pay per call niches, industries and verticals below but you can make the pay per call marketing model work for any type of business that uses lead generation and takes customer sales over the phone.
🚘 Automotive: auto repair, car dealerships, parts and services, towing.
💳 Financial Services: credit repair, debt consolidation, loans, mortgages, student loans, tax debt.
⚕️ Health Care: addiction recovery, chiropractic, dentistry, optometry, medical devices, senior living.
🏡 Home Services: flooring, HVAC, plumbing, roofing, landscaping, locksmiths, carpet cleaning, pest control, home security.
☂️ Insurance: auto, health, home, life, specialty insurance, warranties.
⚖️ Legal Services: bankruptcy, criminal, family, divorce, mass tort, personal injury.
📡 Telecom: internet packages, phone plans, cable TV, satellite TV.
🗺️ Travel: flights, car rentals, hotels, cruises, tours, vacation packages.
You'll notice an important pattern emerge from the list above. All these niches and industries have complex sales cycles where the consumer needs to converse verbally before making a purchase. Examples include booking an appointment or getting a free quote.
Profitable pay per call niches also typically involve companies from industries that sell big ticket items to high value leads, and that requires spending a tremendous amount of money on advertising. This is a huge opportunity for scrappy and savvy performance marketers that know how to generate results.
4. What marketing channels work best for Pay Per Call?
Running a pay per call campaign requires traffic sources and by far, the most effective methods for generating calls is through media buying and paid advertising.
Online traffic sources like Google Ads, Facebook Ads, and Snapchat Ads offer extremely specific targeting options to find the exact callers you're looking for, at the exact moment they are looking for a solution and getting them to click-to-call.
Offline strategies like print, TV, radio and billboard advertising can be extremely effective marketing channels to generate inbound calls and promote pay per call campaigns.
Anytime you've driven by a billboard or watched a commercial with a phone number or a message to "Call Now!" — that's a potential pay per call campaign. Don't think these strategies work? With call tracking software like Ringba, you can easily track the performance and ROAS for these types of campaigns.
5. Where to find Pay Per Call campaigns?
There are many Pay Per Call Networks that are always open to developing relationships with new partners. If you are looking to buy or sell calls, here are a few places to begin your search.
OfferVault is a household name in the internet marketing space. They work with performance marketing companies to list their current offers. It's a fantastic place to start researching offers. Simply click on the "Pay Per Call Offers" tab to find offers and payout information.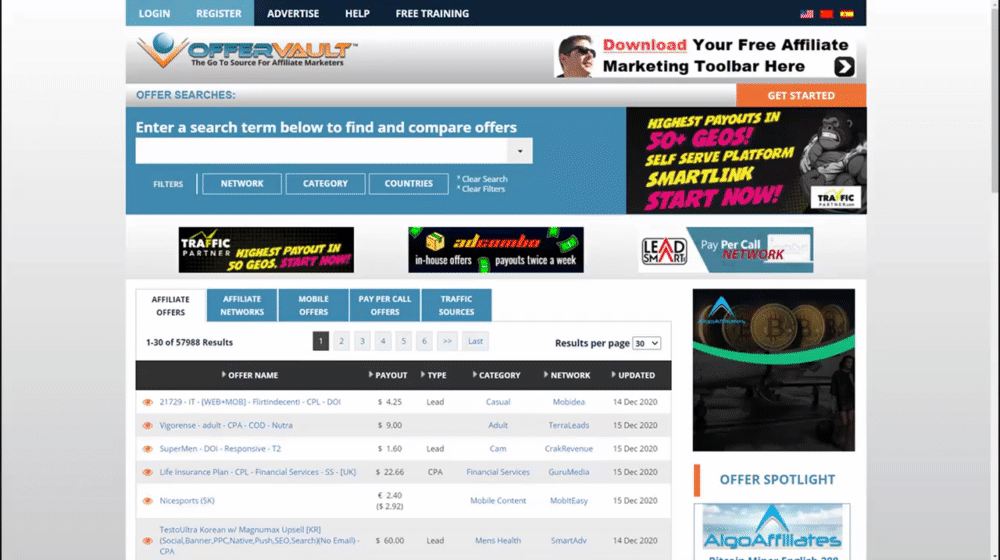 Ringba maintains exceptional relationships with all the major Pay Per Call Networks. Get direct introductions to the top account managers and fast track your application. Visit the site, select the networks you want to work with, submit the form, and that's it!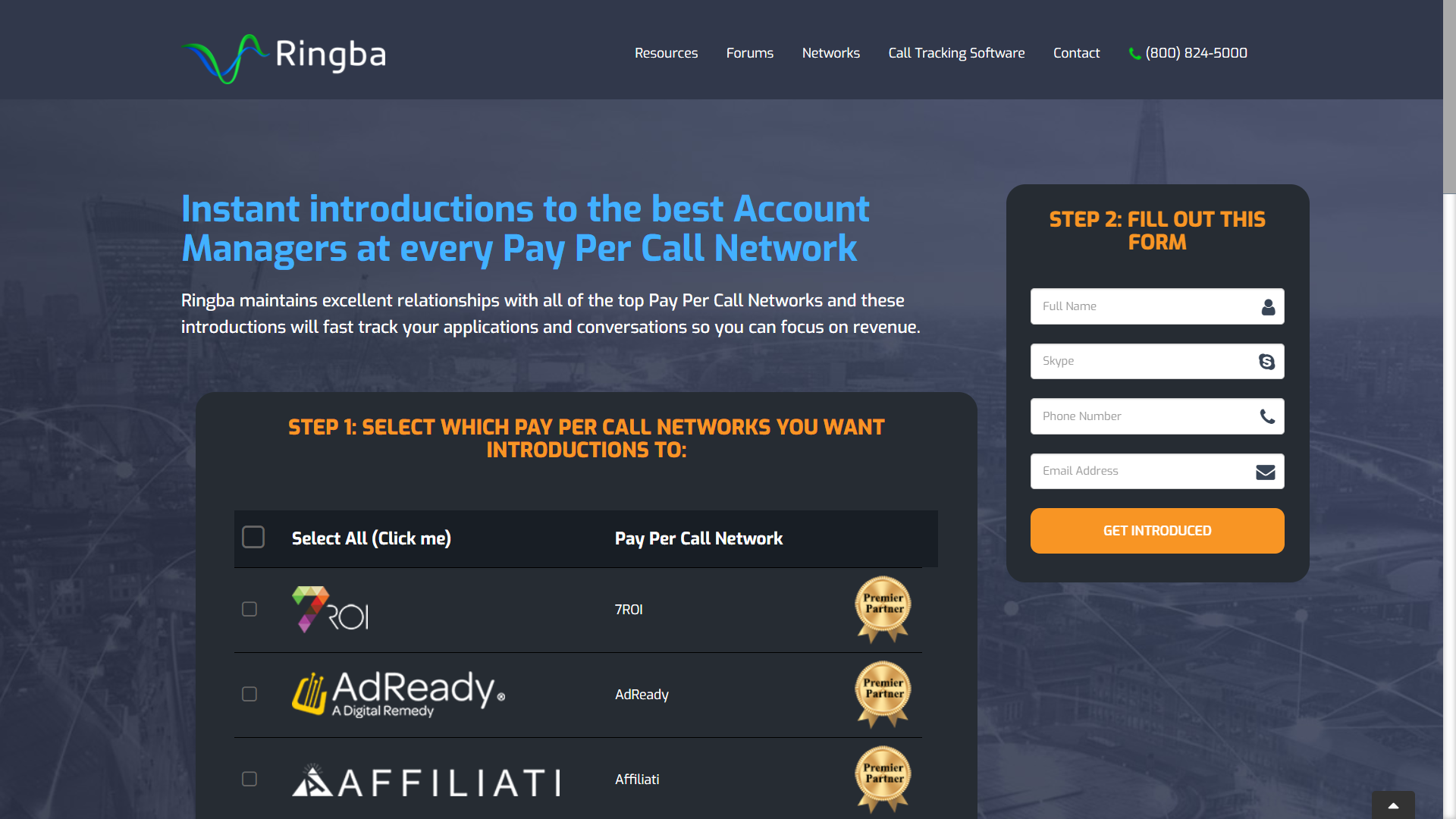 6. Why is Pay Per Call a massive opportunity?
More than $60 billion is spent on generating inbound sales calls every year and the industry is growing so quickly that companies are practically begging for more calls. Live calls with interested customers are the most valuable type of lead to any business so there is a massive demand for these calls and that demand isn't being met. Furthermore, Pay Per Call is one of the fastest growing segments of the affiliate marketing industry. Only recently has the technology caught up to the market allowing companies to buy live phone calls in real time.
7. How are Pay Per Call campaigns managed?
Pay Per Call campaigns are typically managed by performance marketing companies called "Pay Per Call Networks" or by marketing agencies acting on behalf of their clients to generate leads and calls. Using call tracking software like Ringba, these companies can easily set up new campaigns, allocate tracking numbers, create IVRs, and attribute calls to their source.
8. What is a Pay Per Call Network and how do they operate?
Pay Per Call Networks manage call campaigns on behalf of advertisers and generate calls through their private network of publishers / affiliates.
Advertisers looking to buy inbound calls turn to Pay Per Call Networks to run their campaigns and send call traffic. Pay Per Call Networks then turn to the publishers / affiliates to generate calls and pay them a commission for qualified calls.
When an Advertiser sets up their Pay Per Call campaign with a network, they will have specific campaign requirements for the types of calls they are willing to pay for. When an Affiliate applies to run the campaign, they are only compensated when a call successfully meets the campaign's conversion criteria.
When a call meets the criteria to be considered a qualified call, the Advertiser pays the Network the agreed-upon fee and the Network in turn pays the Affiliate for the calls they have sent.
9. How is Call Tracking Software used in Pay Per Call?
Call tracking software is the underlying technology that makes the pay per call business model possible. In its simplest form, pay per call tracking works by assigning a unique phone number to track information and route the call to another destination. When a potential customer sees the number and clicks to call, your call tracking system automatically records attribution data and forwards the call.
A good call tracking system tracks the entire caller journey from beginning to end and provides detailed reports and analytics about the call. Call tracking software like Ringba takes care of all the routing, reporting, and attribution required to manage the entire pay per call flow.
10. How are inbound calls tracked to their source?
The most effective way to implement call tracking and attribute call directly to their source is by using Dynamic Number Pools. Also called number swapping or DNI (Dynamic Number Insertion), dynamic number pools work by placing the Ringba JavaScript tag on your websites and landing pages to swap and display unique phone numbers to every user.
When a potential caller visits your page, Ringba will select an available phone number from the pool and locks it to that user's browser session for a set amount of time, until they become idle, close the browser, or leave the page.
When the visitor picks up the phone and calls the number, Ringba attributes that call to the user's session information giving you detailed tracking information about the source of the user so you can further optimize your campaigns.
Ringba tracks all impression data whether a user calls or doesn't. This means you can gain even deeper insight by viewing reports based on keywords and other criteria to see who did call, who didn't call, and adjust your advertising campaign targeting accordingly.
All of the data Ringba captures about your users is available in Reporting for detailed grouping and sorting to uncover specific details that are driving user behavior and call conversions.
11. Can phone calls be routed to different buyers?
Absolutely! In fact, this is one of the reasons why pay per call is such an exciting business model. All the top players in the pay per call industry use technology like Ringba to manage their call flow, create dynamic routing plans, and improve their conversions.
The key difference between pay per call and other types of performance marketing is the human element: someone has to be available to answer the phone call. If the caller has to wait a long time for someone to answer, or gets routed to a buyer with no agents available, you run the risk of dropping the calls and losing out on a potential sale. If you don't have your own call routing technology, you will not be able to save those dropped calls by rerouting them to a buyer that can actually service the caller.
This is why it's essential to work with multiple call buyers that can handle your call flow as well as use your own call tracking software so you can intelligently route your calls based on factors like concurrency, capping, hours of operation, geolocation, IVR input, and more.
Check out this blog article to learn more about routing calls to multiple buyers and improving conversions with automation call routing.
12. Can phone calls be filtered based on specific criteria?
Of course! Typical campaign conversion requirements include; minimum call duration, area code or geolocation, demographic profile, and more. With call tracking software like Ringba, you can intelligently route and filter your call flow by any metric you need.
13. Where is the future of Pay Per Call headed?
Real-time bidding for phone calls. In other words, the ability to buy and sell inbound phone calls from prospective customers programmatically like you would with traditional pay per click advertising.
14. What is Real Time Bidding for Calls?
Real Time Bidding for Calls makes it possible for advertisers to buy inbound phone calls programmatically.

When a call is initiated, qualified advertisers submit bids based on specific criteria with the highest bidder receiving the call and being connected to the consumer.
Similar to traditional pay-per-click advertising where impressions are sold to the highest bidder based on their campaign criteria, real time-bidding for calls gives call buyers the ability to bid on live inbound calls from potential customers in real-time.
Check out this blog article to learn more about how Real-Time Bidding for Calls works.
15. How is Pay Per Call different from other types of lead generation?
Pay Per Call is focused on a singular goal: getting a customer to pick up the phone and call a number. Phone calls carry the highest level of buyer intent when compared to other lead generation methods (like form fills or pay per click advertising) because humans don't call unless they are actually interested in speaking with a sales rep.
16. How is Pay Per Call Advertising different from pay per click advertising?
Traditional pay-per-click advertising is used for driving web traffic to websites and landing pages. Pay Per Call Advertising is used for buying inbound calls from prospective customers.
17. Can you generate inbound phone calls with Google Ads?
The best way to run pay per call campaigns on Google is with a Call Ads campaign.
To get started with Call Ads, go to your Google Ads account and create a New campaign. Select the Sales or Leads goal. You can also choose to create a call campaign without a goal.
Select "Search" for campaign type and "Phone Calls" as the method for reaching your goal, enter your tracking phone number, and click continue.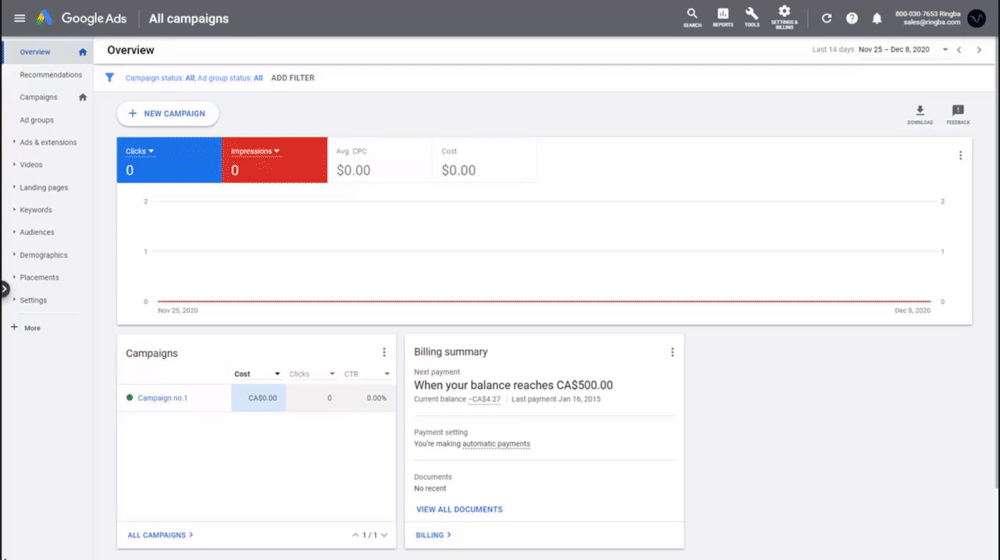 Next, continue with your campaign setup including Keywords, Ad Groups, and finally your Call Ads. Here's what a Google Call Ad looks like: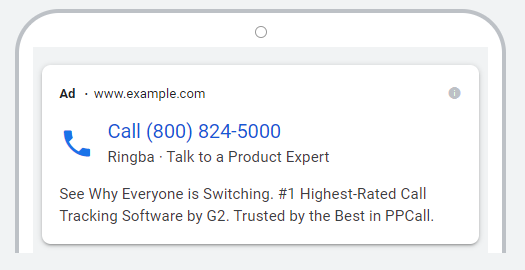 Tracking Phone Calls from Google Ads
Ringba provides a native integration for connecting directly to your Google Ads account to automatically track and report your calls as conversions.
Check out our support guide to learn more about the Ringba Google Ads Integration.
18. How do you drive traffic for pay per call on Facebook?
There are two primary ways to run a pay per call campaign with Facebook: Call-To Action Ads and Reach Campaigns.
We'll focus on these types of campaigns because they use "Call Now" buttons that allow users to click-to-call which makes them perfect for testing Facebook ads as a pay per call traffic source. Another benefit to these campaigns is that you can include Instagram as one of your placements which is another massive traffic source.
Before you can run this type of campaign, you'll first need to set up a Call Now button for your page. Displaying a Call-Now button on your page gives visitors the ability to click-to-call a phone number directly from your page.
To set up a Facebook Call Now button, go to your Facebook page and click "+ Add a Button" below your cover photo. Select the "Call Now" option, enter your phone number, and press "Save".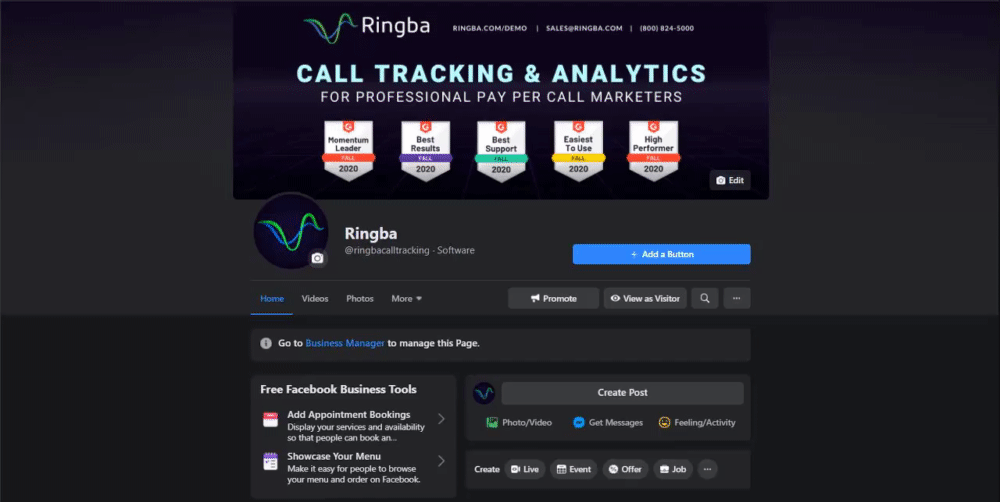 After you've set up your Call Now button, you can now run a "Call-to-Action" promotion. Go to your Facebook Page and click "Promote". Select " Get More Calls" and fill in your ad details including the creative, targeting, and budget, etc. Finally, you can launch your campaign by clicking the "Promote Now" button.
A Call-to-Action page button is also a fantastic way to generate calls organically so even if you don't run this type of paid advertising campaign, you should at the very minimum have a "Call Now" button on your Facebook page.
Method 2: Reach Campaigns with a Call Now button
For you expert Facebook media buyers out there, this is a standard type of Facebook Ads campaign that you may be more familiar with. Using "Reach" for your campaign objective, you can use a Call Now button for your call-to-action.
To get started, go to your Facebook Ads account and click "Create New Campaign". Choose "Reach" for your campaign objective and you can begin setting up your campaign details.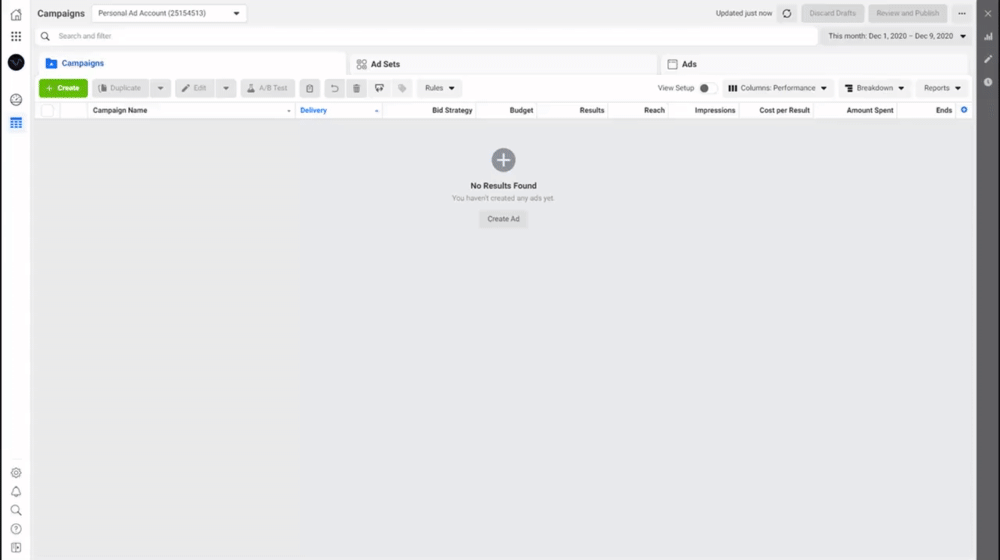 When you get to the Ad Creative section, click the "Add a website" checkbox and include a URL for verification. Next, under the "Call To Action" dropdown, select "Call Now" and you can enter a phone number for users to click-to-call directly from your ad.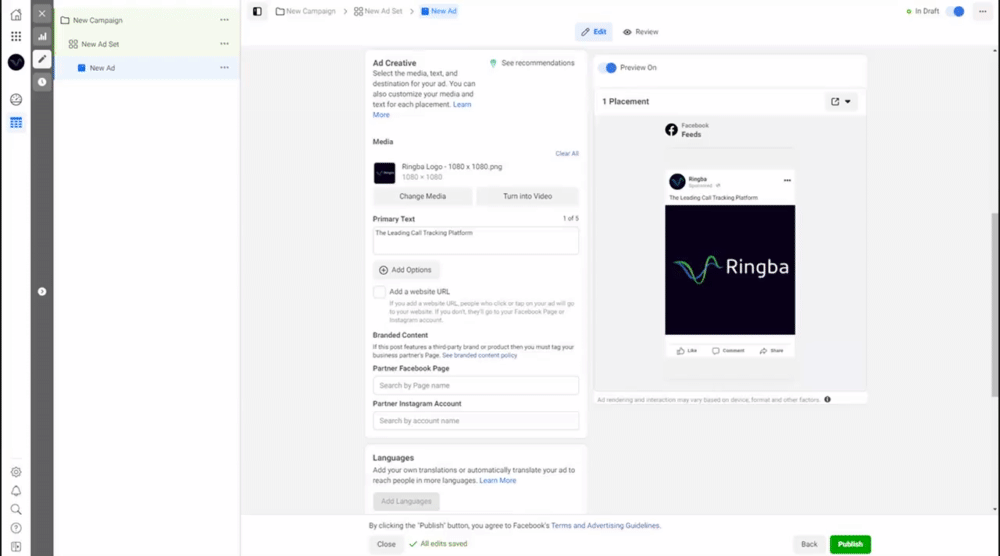 Once you've finished creating your ad, you can launch the campaign. Here's what a Facebook Call Now Ad looks like: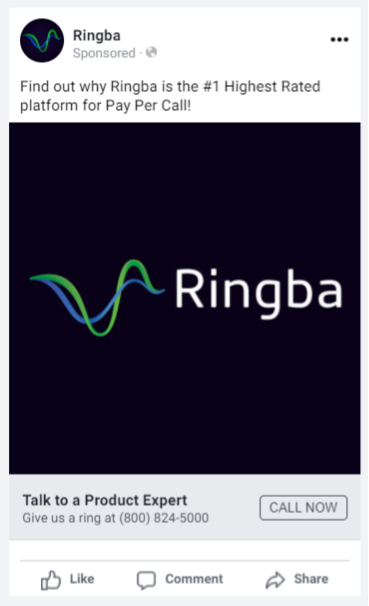 Tracking Phone Calls from Facebook Ads
Ringba provides a native integration for connecting directly to your Facebook Business Manager account to automatically track and report your calls as offline conversions.
Check out our support guide to learn more about the Ringba Facebook Integration.
19. Does Pay Per Call work on Snapchat?
Of course! You can run pay per call campaigns on Snapchat Ads using a Swipe to Call campaign.
Snapchat Ads are a completely untapped traffic source for pay per call marketers and industry insiders have been seeing fantastic results by running their pay per call campaigns through Snapchat.
First and foremost, you need to understand Snapchat's user demographics. The majority of their audience are millennials and gen z. This should factor into your campaign strategy, the way you write your copy and how you design your creative.
To create a swipe to call campaign, go to your Snapchat Ads Manager and create a new campaign with Instant Create using "Calls and Texts" as your advertising goal.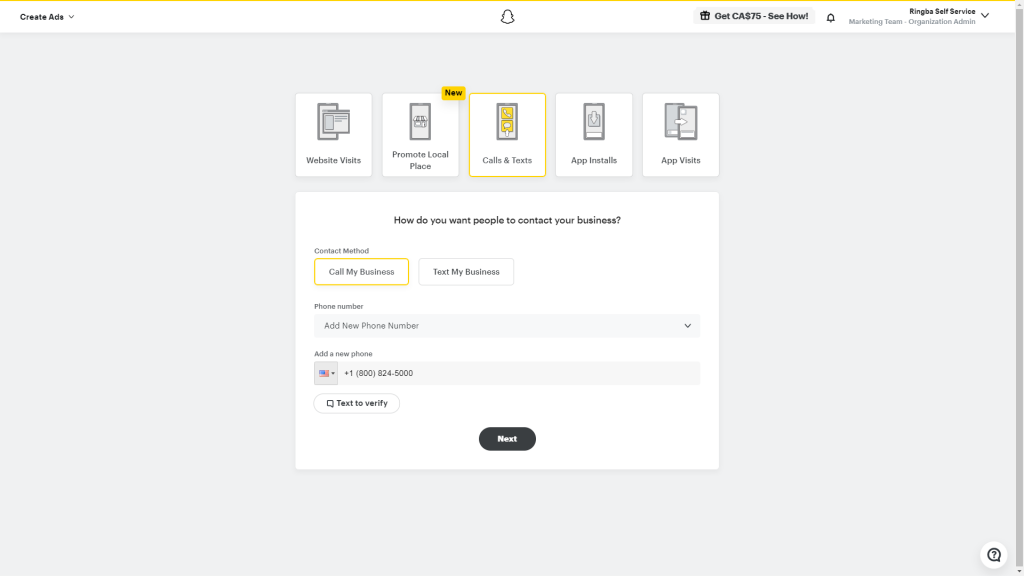 Enter the phone number you want to receive calls from. If you are using a tracking phone number, you'll need to reach out to their team to verify your account before you can start running swipe to call campaigns.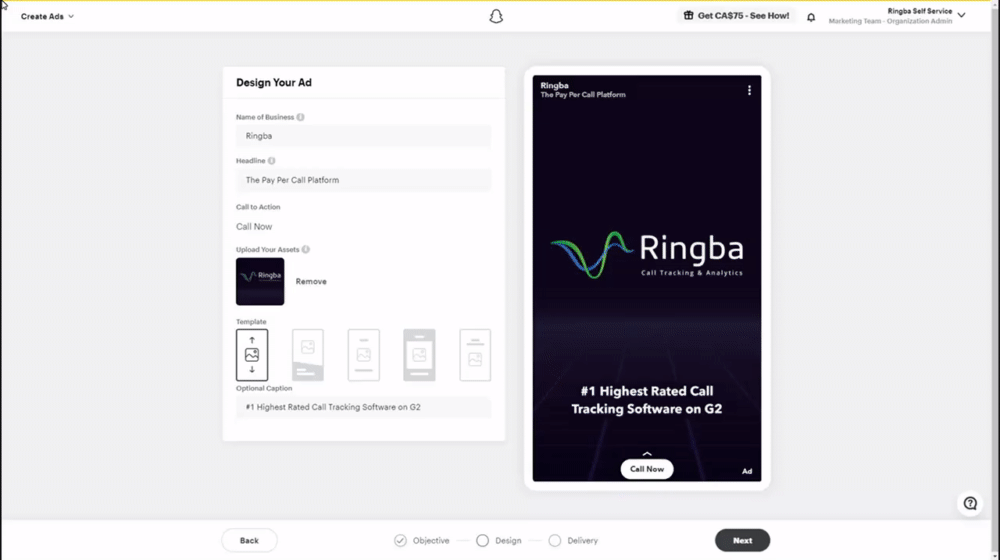 Add your creative and design your ad. You can add a short headline and longer caption. It's highly recommended to use video as it gets higher engagement. Fill out the rest of your targeting details, set your budget, enter your payment information and publish your ad to launch your Swipe to Call campaign.
20. How is Pay Per Call different from outbound telemarketing / cold calling?
Pay per call campaigns are entirely inbound. An inbound call means that person that dials the number is truly interested in the product or service and wants to speak to a salesperson. This is a gamechanger for sales call centers that do outbound cold calling.
With outbound telemarketing and cold calling, sales agents are dialing out to consumers that don't want their phone call, aren't expecting it, don't want to hear from them and are generally not happy to receive the phone call. Simply put, outbound dialing and cold calling is not an efficient method for generating sales and it burns out call center agents.
21. How is Pay Per Call Marketing different from CPA affiliate marketing?
For performance marketers, pay per call marketing campaigns are significantly more sustainable than other types of CPA affiliate marketing. Not only that, but they are significantly harder to copy. With CPA marketing, competitors can easily ripoff and steal your angles, copy, creatives, and more with ad spying tools; this is a lot harder to do with pay per call marketing.
Pay per call is still a new type of lead generation and there aren't nearly as many people running call campaigns when compared to running CPA affiliate offers. This is because it's a lot harder to get started with pay per call, call tracking technology is a requirement, and most affiliates aren't willing to put in the legwork needed to run a successful pay per call campaign.
22. What are the best learning resources for Pay Per Call?
It doesn't matter if you're just getting started with pay per call or if you're a pay per call pro with years of industry experience: learning is lifelong endeavour. Here are some of our favorite resources for pay per call marketers.
The Ultimate Resources Sheet for Pay Per Call
One of our most popular resources, the Ultimate Resources Sheet for Pay Per Call is our curated collection of you need to get started in the Pay Per Call Industry including;
– Massive list of 30+ Pay Per Call Networks.
– 100+ Traffic Sources for Media Buying.
– Free downloadable pay per call Campaign Assets.
– A complete Glossary of Terms that you need to know.
– 200+ Marketing Tools for setting up, optimizing and scaling your business.
– Plus a whole lot more!
Pay Per Call Masterclass
The Pay Per Call Masterclass is Ringba's deep dive into the call marketing and lead generation industry. Best of all, it's entirely free.  Here are a few of our favorite lessons:
– The Psychology of Ads
– Quality Assurance
– Creating a Buyer Network
– Working with Affiliates
Pay Per Callers Show
The Pay Per Callers Show is hosted by Ringba's founder, Adam Young and features interviews with the marketing experts and pay per call pros. Here are some of our most popular episodes:
– Interview with Neil Patel
– Interview with Manny Zuccarelli (Quote Velocity)
– Interview with Eric Evans (HyperTarget Marketing)
– Interview with Anthony Paluzzi (PALO Media)
23. What are the top communities for Pay Per Call?
Staying up to date and connected to the entire pay per call industry is key to succeeding in this industry. Online communities are perfect for finding new business partners, asking for advice, sharing best practices, and much more.
At Ringba, we run the world's biggest pay per call groups and communities with thousands of active members.
Pay Per Callers Forum
The Pay Per Callers Forum is the only internet marketing forum dedicated to the pay per call industry. Become a member, introduce yourself, and share your knowledge!
Facebook Groups for Pay Per Call:
There are tons of pay per call pros on Facebook. Many network managers, pay per call publishers and call buyers use groups to look for new business and promote their offers.
1. The Official Pay Per Call Group
2. Pay Per Call Mastermind
3. Pay Per Call Affiliates
4. Pay Per Call Marketing
5. Pay Per Call Group
6. Pay Per Call Advertising
7. Lead Generation, Pay Per Call, and Affiliate Marketing
LinkedIn Groups for Pay Per Call:
Members of these groups don't just include account managers from pay per call networks, but also call center owners, media buyers and affiliate marketers.
1. Ringba's Pay Per Call and Lead Generation Group
2. Ringba's Auto Insurance Lead Generation and Pay Per Call
3. Pay Per Call Advertising Solutions
4. Pay Per Call Marketing and Advertising
5. Pay Per Call Publishers
6. Pay Per Call Advertisers
7. Mobile Pay Per Call